That's what she said...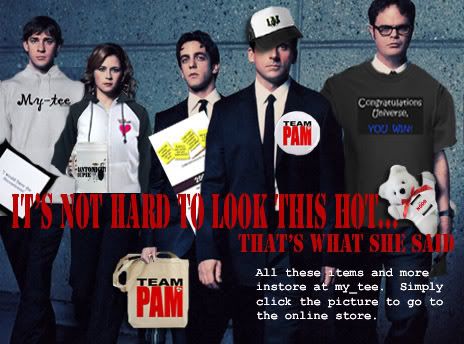 Have you ever received a fax...from yourself...from the future? Do you know what it would tell you to do? It would tell you that not only will someone poison the coffee at 8am...but that you should also buy a gray hooded sweatshirt
from here
so you can make your own Lazy Scranton (the electric city!) video while cooking bacon on your George Foreman Grill!
So you all know that I've become a fan of The Office in recent months...alright...admittedly...a pathological obsessive fan of The Office. Hey, at least I have the courage to admit it! I know there are more of you out there...I know that you love The Office just as much as I do...therefore you will be delighted beyond doubt that there is now a whole line of clothing and gift items to proclaim your love of The Office to the public...and to the world!
my_tee by Claudia
has some really funny stuff using anecdotes from The Office, as well as some creative use of office supplies. If you are a fan of The Office (and you SHOULD be!), or you know someone who is...I urge you to
check out this site
. The fate of Dwangela could depend on it!
Labels: cafe press, Dwangela, George Foreman Grill, Lazy Scranton, my_tee by Claudia, The Office