This just in: Friday, April 4th Declared National Holiday!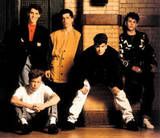 So not true...but it sooo should be!! New Kids on the Block, as if you haven't heard, are making a triumphant comeback starting this Friday on the Today Show!!! Bust out your back issues of Tiger Beat and that giant photo book they sold and that you must admit that you bought and still have...admit it...you are among friends here!!!

Words cannot describe how happy I am. I think it was prophetic that I found the cassette tape when I did! I think it was wonderous that Backstreet Boys were on the finale of The Celebrity Apprentice...because people on a national scale could witness how insanely awful they were and put the spotlight on the more deserved musical institution that NKOTB is!!

They have been working on new music and I will have it the day it's released to the public!! Now, I need to either start a petition or send a memo to *NSync and get them on the bandwagon and my life will be, quite possibly, in the most wonderful place it's ever been:) Back in Boy Band Mecca - like it should be!!

Check out this video from People.com...it's wonderment.

Labels: New Kids on the Block, NSYNC, People Magazine, People.com, The Celebrity Apprentice, The Today Show